Checklist for Effective Commercial Bank Cleaning
As customers walk into your bank or financial institution, the first impression they get is from the ambience and general looks of the surroundings. Maintaining a clean bank hall and office is vital to an excellent customer experience. Additionally, bank cleaning helps convey a message of integrity, reliability and trust to every customer who comes in for transactions.
Sparkling clean walkways and immaculate teller sections create a welcoming atmosphere that makes people feel safe. Moreover, a clean financial institution reflects the pride it takes in itself.
Daily Bank Cleaning Checklist
Hiring trusted bank cleaners to handle your daily cleaning routines is an excellent way of ensuring maximum hygiene without sacrificing your time and efforts. Furthermore, licensed and insured commercial cleaning companies can provide you with qualified commercial bank cleaners who can handle the job efficiently. From cleaning restrooms to sweeping offices, mopping floors and emptying trash bins, they'll work to ensure the overall cleanliness of your surroundings.
Meanwhile, here is a checklist of areas to focus your banking facility cleaning efforts.
Offices
The most important financial deal takes place inside offices. Therefore, it's ideal to employ quality a bank cleaning service to ensure your offices are in the best sanitary condition. Your desk areas, chairs, and floor need to be cleaned and wiped daily and the trash bin emptied to keep the room neat and appealing.
Read also: Office cleaning guides.
Teller Stations
Most customer interactions with your staff take place in the teller stations. As an area of high traffic, it needs to be frequently cleaned and sanitised for the safety of your customers and staff.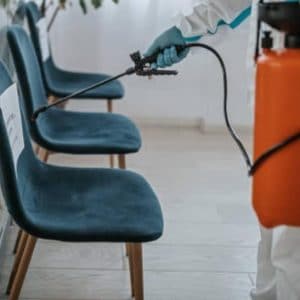 Waiting Area
Your cleaners should wipe down furniture and other design elements in your waiting rooms or sections. Inspect seat cushions and tables for spills and sticky dirt that may ruin their appeal. Ideally, the waiting area should be as clean and germ-free as possible.
Restrooms
Much of your bank cleaning resources should focus on ensuring your restrooms are clean and sanitised at all times. Your bank cleaning professional should regularly disinfect sinks, counters, and toilet seats before, during and after work hours. Similarly, it's great to frequently check the restroom for cleanliness and replenish soap and toilet papers when they run out.
Entryways
All entry points of your financial building should be cleaned carefully. Polish glass doors, clean staircases/elevators, windows and sanitise door handles to give your customers the best first impression.
Read also: Recommended Office Cleaning Solutions for Outdoor Spaces.
Why Use Commercial Bank Cleaning Checklist
A cleaning checklist generally helps you focus your cleaning on important areas. It gives you a more decisive approach to cleaning and ensures maximum hygiene in your bank or financial facility. Furthermore, having a cleaning checklist will enable your cleaning staff to stay on track with their role and work more efficiently.
Need Help From Bank Cleaning Pros?
Give us a call whenever you're ready to expand your cleaning capabilities with a reliable commercial cleaning partner. At Office Cleaning Solutions, we adapt our quality cleaning services to fit your needs and business schedules.
Follow Us On