Hotel Cleaning Solutions: Useful Tips
Each year, hotel cleaning professionals service thousands of rooms. From small, cosy private rooms to large suites, they clean rooms of every shape and size using the latest methods and hotel cleaning tools. Years of experience have enabled them to come up with effective but less stressful cleaning solutions.
Whether you are an aspiring hotelier or would like to learn from experienced hotel cleaners, these tips may come in handy:
1. Set up a cleaning system
There is more to cleaning than meets the eye. Though everyone is capable of wiping windows, mopping floors or organising beds, efficient cleaning is a science of its own.
Hotels consist of several rooms on different floors. And professional hotel cleaners need to be dispatched on each room while paying attention to guests' check-in and check-out times.
With a hotel cleaning service provider, you can save time and energy. Make your cleaning system work by taking note of these components:
Cleaning checklist

Comprehensive work assignments and shift schedule

Software that tracks down client bookings real-time

Inventory of cleaning materials and equipment
2. Remove dust from light fixtures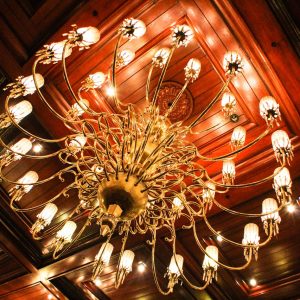 As a rule of thumb, light fixtures need to be cleaned at least once a month. Dust and dirt can dull light bulbs and chandeliers, making them look faded even when functioning properly. To give light fixtures that extra glow, hotel cleaners use a duster together with a special solvent and a damp cloth.
3. Start a top-to-bottom cleaning routine
Always clean from the ceiling downward so you do not have to clean the room repeatedly whenever dust falls. After cleaning the top section of the room, you can dispose of fallen particles along with other areas that still need cleaning.
4. Handle chemicals carefully
Chemicals effectively remove stubborn dirt and stains that stick on delicate fabric or surfaces. When handled the wrong way, however, they can damage the fabric or surface you ought to have cleaned.
So a word of caution: do not mix different cleaning solutions. Stick with pre-formulated concoctions instead of mixing your own. This is to avoid explosive chemical reactions that may harm nearby furniture or textile. It would also be better to use different rags.
When in doubt, just leave it to the experts. They know what cleaning solutions to use on any fabric or surface.
5. Make clean, lively beds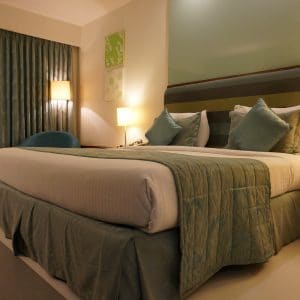 While we have the choice to organise our personal beds however we want to, hotel room beds need to look sophisticated. After deep cleaning, which may involve baking soda, air out bed sheets, comforters and pillows for a fluffier appearance.
Plump-looking beds look warm and lively. They also feel comfortable and are conducive to better sleep.
Cleaning Solutions for Hotels, Hostels or Vacation Rentals
Whether you own a hotel or still plan to build one, know that DIY cleaning solutions have a 50-50 chance of succeeding. You may save money for a time but you run the risk of damaging your own property. This means more costs and less savings for your business.
Hotels are some of the worst venues for DIY cleaning. Hotel staff deal with different customers with different comfort levels. To please them and encourage repeat business, staff must serve with the highest standards in mind. This goes without saying that you need special – and not just ordinary – cleaning solutions.
Bigger establishments hire the services of experienced hotel cleaners simply because they cannot afford the possibility of incurring more losses due to to trial-and-error cleaning methods. Hiring experts, on one hand, ensure that your property, furniture, fixture and equipment will always be in good hands.
So if you need staff to clean your hotel, hostel or vacation rental premises, contact a trusted cleaning company today!
Follow Us On