Professional End of Lease Cleaning Services
To end your lease on good terms or have your lease renewed by your landlord, tenants need to leave the property in the best condition possible. It is the duty of every tenant to take care of their leased property. Part of this duty is to ensure the property has not only sustained damages but is also as spic and span as the day you moved in. Simply put, end of lease cleaning is returning the leased property back to its former condition.
Many outgoing or renewing tenants hire commercial cleaners to provide cleaning solutions on their behalf. DIY cleaning can save money. However, if you have other concerns to attend to like work shifts, hiring a mover and other moving preparations, thorough cleaning may be out of the question.
When pressed for time, end of lease cleaning solutions are your most appropriate recourse. You do not have to do the cleaning yourself. A trusted company with a team of competent commercial cleaners will do all the work for you. Many of these companies also offer office cleaning solutions in addition to end of lease cleaning. Their primary purpose is to take the load off your back so that you can leave a good impression on your landlord.
Below are some of the things you can expect from a competent office cleaning solutions company:
1. Rubbish clearance 
One of the biggest challenges of moving out to another place or renewing your lease is getting rid of all the rubbish. Though not a particularly difficult undertaking, it can take up a great chunk of your time. While you certainly have the option to handle the cleaning without help from others, there is no harm in letting a commercial cleaning company handle the dirty work for you.
Time is of the essence and you need to focus on crucial tasks. Rubbish removal is better carried out when you have the right cleaning tools and equipment. Doing the cleaning yourself means you have to settle with whatever is available. What if you've amassed rubbish that's more than you can handle? If it's clearing rubbish and time is of the essence, leave it to the experts.
2. Disposal of unnecessary or unwanted furniture
Lease renewal or moving out to a new place usually means changing to a better, more functional furniture. Should there be furniture you no longer need or you feel should be replaced, let the cleaning pros know ASAP. They will help you move the furniture out of the leased property and let you focus on your relocation plans. Cleaning companies can transport these
3. Stain removal
Dark stains on the floorboards are headache-inducing. Unless you have a special stain remover or you know how to mix solvents together, then removing stains can be quite challenging. And when you're dealing with persistent stains, the wrong move may result to further damage.
Cleaning experts, on one hand, know the ins and out of stain removal. They have special techniques for removing the most persistent stains. Some companies mix their own solvents to achieve maximum cleaning efficiency. But the responsible ones make sure that their solvents are both effective and formulated from environment-friendly chemicals.
4. Carpet cleaning
For this particular cleaning service, you can choose between dry carpet cleaning and steam carpet cleaning methods. Certain types of carpet need more than the usual vacuuming and dry cleaning. Most experts recommend steam carpet cleaning, which takes about half an hour to complete. This method uses steam from hot water to remove soil and other dirt sticking to the carpet's fabric.
5. Intensive cleaning solutions
You know you're dealing with professionals when they have a solution for just about any cleaning issue you encounter. Professionals offer deep cleaning services covering any type of surface and every nook and cranny of the property. From cobwebs lurking at difficult-to-reach corners on your leased space to air conditioning, no cleaning task is too heavy for the right cleaning company.
Intensive end of lease cleaning generally covers the following:
All surfaces (stainless steel, glass, mirrors, wood, tiles, special surfaces)

Sweeping, mopping, stripping, waxing and polishing floors and other surfaces

Dry and/or steam carpet cleaning

Air condition vents
Commercial Cleaning Richmond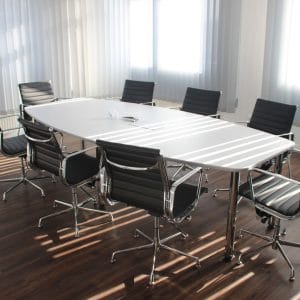 While end of lease cleaning helps outgoing tenants have an easier time relocating, note that cleaning services depend on the property. Its structure, size, surfaces, interior arrangement and the like will determine the type of cleaning services you need.
Also, be very discerning when choosing a cleaning company. Some companies market themselves differently. When it comes down to it, however, they cannot deliver. Make sure you choose a cleaning solutions company that meets you half way, completes the job on time and adheres to high standards.